Providing exceptional customer support in unpredictable times
From their newly launched online portal to dedicated Customer Relationship Managers, Andent is always looking for the best approach to help their customers navigate uncharted waters.
Even before COVID-19 descended, Australian dentists were already grappling with myriad challenges, mainly in the shape of fee-lowering insurance companies, corporate buyouts and consolidation, new (digitally savvy) competitors in the neighbourhood and a dominant Gen Y clientele weaned on social media. As compared to the threat of COVID-19, these challenges are no less imposing or unpredictable. In many ways, they can also be deemed as "unprecedented".
Beset by uncertainty, dentists instinctively search for a sense of stability by erecting structural safeguards around their businesses. According to Matt Smith, one vital bulwark against the unpredictable headwinds is to partner with a reliable, customer-focused and digital-ready dental lab.
Smith is the General Manager of Andent, one of Australia's most digitally inclined dental labs, also known in the industry as one of the pioneers in the scanning, designing and milling of dental restorations.

"In the same way that Andent has learned to adapt in order to compete, we want to assist our clients to endure these turbulent times by evolving with the realities on the ground," he says.
Conversations with dentists have traditionally revolved around their cutting-edge processes and technology, 100% Australian-made high-quality work that requires fewer adjustments and their uncompromising standards of aesthetics. While those things remain unchanged, Smith believes that increasingly, dentists are seeking more from their labs than just quality products, but also exceptional
and reliable customer support, turnkey solutions and greater convenience.
"It's simply not enough offering good products at reasonable prices," Smith says. "Our customer has always been the number one priority and one of our core values is focusing strongly on the customer experience."
Personal connections
About six years ago, Andent began drawing closer to their clients through engaging Customer Relationship Managers – a staple in the banking sector but less known within dental circles.
"Since our lab services clients across Australia, CRMs help to extend our reach, improve customer engagement and increase customer satisfaction," Smith explains.
"More importantly, the idea is to take the dentist-lab relationship to the next level. Through the CRMs we are able to establish a personal connection with the dentist."
Allowing for seamless communication and transfer of products between the lab and practice, the relationship managers are contactable across different time zones and outside regular business hours.
Whether over an email, phone call, zoom conference or in person meeting, the knowledgeable liaison officers offer end-to-end, personalised customer support for
each individual case. When they are not meeting dentists at an expo, CRMs can be found at the client's surgery talking them through screen shots of a challenging case.
"Essentially, I function as the bridge between the lab and the dentist," says Huy Dang, Andent's Customer Relationship Manager.
"Some dentists are not familiar with the inner workings of a lab. At Andent, we want to make sure they understand the processes, and how we work internally. It's important that we're all on the same page so there are no surprises."
Noting how every dentist operates differently, Dang would establish at the outset the clinician's preferences for how much – or little – technical support he or she requires so as to tailor the communication approach accordingly. The personalised attention, he stresses, can be individualised to each and every dentist, even within a multi-chair setting.
Another Plus Point
For dentists that prefer online correspondence, Andent recently rolled out a customer service portal that offers increased efficiency and ease of transactions. Andent Plus was launched in March as a testament to the lab's commitment to meet the constantly evolving needs of the Australian dental industry.
"Andent Plus is part of our continuing investment in customer-focused technology. Instead of simply investing in lab-side technologies that make our work easier or those that improve the quality of our products – which we have consistently done and will continue to do so – we are also putting resources into technologies that enhance the customer experience," Smith emphasises.
Andent Plus provides customers 24/7 access to real time updates on the status of their cases. Available as a value-add service at no extra charge, dentists only need to create a free account to begin their online interactions with the lab.
Once they have booked in a case, the dentists would receive a confirmation via email with a note detailing which day the case is scheduled to dispatch. They will get another email, along with tracking number, when the case leaves the lab. In short, you can track your case easily, immediately, at any time of the day.
Andent Plus also acts as a one-stop portal for dentists to access all the relevant information for each case, letting users view all their transactions at one glance. This includes purchase history, invoices (available for downloads), and a convenient e-payment system. Further,
customers are able to book a pick-up, submit a digital case, order personalised lab sheets or print them instantly. Case photos and further technical instructions may also be uploaded.
Man or machine: it's your choice
For all its advantages, Smith says, Andent Plus is but another option with which to interact with the lab, as some dentists may want to review cases after hours, or download invoices and statements at their own convenience – similar to online banking. All the other channels of communication – including easy phone and email access to the technical support team and the personalised assistance of the CRMs – remain intact.
"The portal is about giving people access to information they have come to expect to be available on-hand when they want it," he says. 
"We still want to maintain that strong interaction with all our dentists and customers. End of the day, it's about building the customer relationship in a way that benefits each individual dentist."
Real-time reliability
As dentists navigate the new normal business environment in which they now operate – one fraught with sudden
lockdowns and unforeseen restrictions – Dang believes that the need for open, transparent and instantaneous
communication between dentists and their labs is more imperative than ever.
Andent customers enjoy the added assurance that all their cases are locally made and distributed. During the messier periods of ad hoc restrictions, Dang personally helped clients expedite their cases – such as, when the temporary crowns did not last as long as anticipated – or held back packages when the clinics were abruptly forced to close.
"If you aren't transparent or able to work to specified deadlines, the client's business won't be able to function well," Dang says. "We offer clockwork service so that dentists know well ahead of time how to rebook their patients, some of whom are booked 4-5 months in advance."
"Whether they are using Andent Plus, going directly to a CRM like Huy (Dang)" or even chatting to the amazing team in the lab, Matt adds, "we are all about giving dentists reliability and predictability. And that is something to say, in this day and age."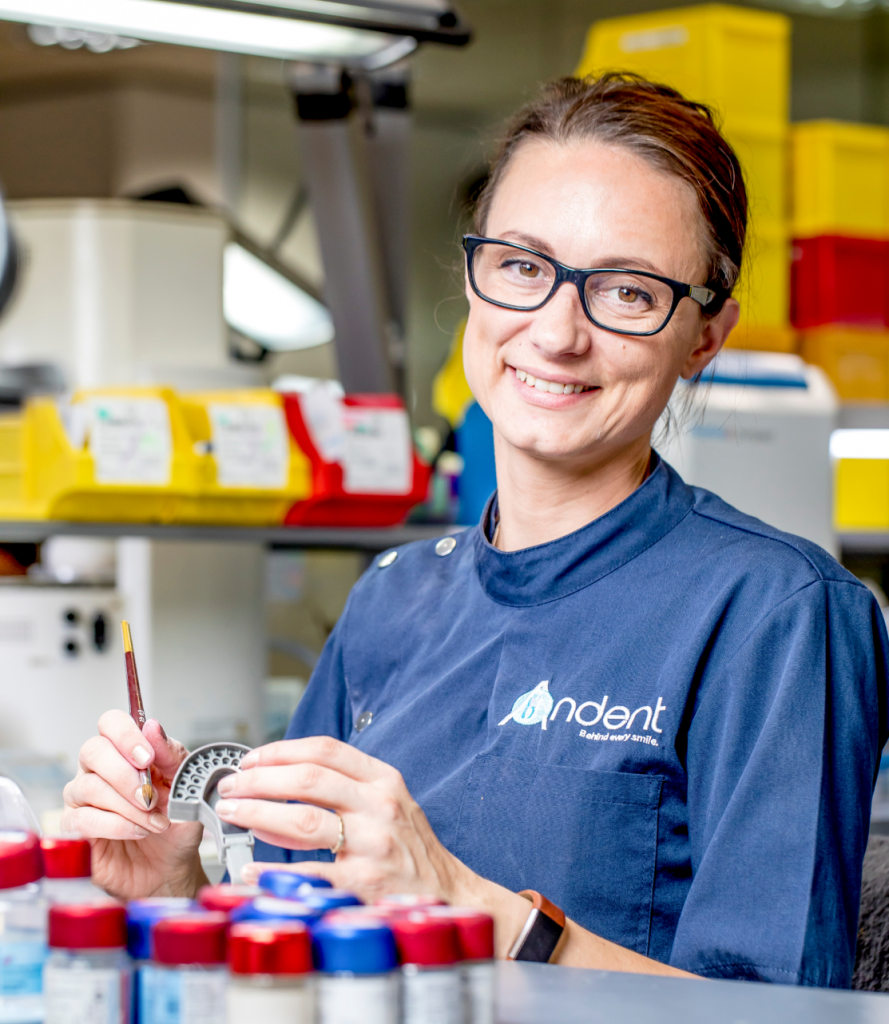 This article was first published in the Australasian Dental Magazine  July-August 2021 Edition